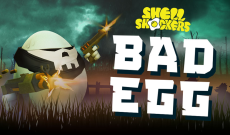 Bad Egg
Bad Egg is an exciting and addictive mobile game where players take on the role of a mischievous egg on a quest for adventure.
Explanation of the Game
Bad Egg is an exciting and addictive mobile game where players take on the role of a mischievous egg on a quest for adventure. The goal is to navigate through various challenges and obstacles while collecting points, rewards, and achievements. Players can embark on a journey to become the ultimate Bad Egg!
Rewards or Achievements
Egg Customization: As players progress, they unlock various customization options for their egg character, such as different colors, patterns, and accessories.

Power-Ups: Earn and unlock power-ups like speed boosts, shields, and magnetism, which can help you navigate levels more effectively and earn more points.

Character Upgrades: Use collected coins to upgrade your egg's attributes, such as speed, jumping ability, and attack power.

Unlockable Levels: Progress through the game to unlock new and more challenging levels, each with its own unique theme and set of obstacles.
Challenges or Obstacles
Enemies: Hostile eggs, rolling pins, and other kitchen hazards will try to stop you on your adventure. Defeat them or find ways to avoid them to progress.

Platforming Challenges: Navigate through platforms, conveyor belts, and moving obstacles to reach your destination.

Puzzles: Solve puzzles to unlock secret areas and collect extra rewards.

Boss Fights: Engage in epic boss battles against giant, menacing kitchen appliances that test your egg's skills and reflexes.
Social or Community Benefits
Leaderboards: Compare your scores with friends and players from around the world. Compete for the top spot on global leaderboards.

Multiplayer Challenges: Engage in multiplayer races or challenges with friends, adding a competitive edge to the game.

Social Sharing: Share your achievements, high scores, and egg customizations on social media to connect with the game's community.

Community Events: Participate in special in-game events, tournaments, and challenges that bring players together for a common goal or theme.
Bad Egg offers an exciting blend of platforming action, strategy, and customization. Players can continuously improve their egg character, explore new levels, and compete with others, making it a thrilling and socially engaging gaming experience.
Instructions
Collecting Coins: Players can collect coins scattered throughout the game's levels. These coins can be used to purchase upgrades, power-ups, and cosmetic items for their egg character.

Completing Challenges: Bad Egg features a series of challenging levels, each with unique obstacles and enemies. Players earn points by successfully completing levels and defeating enemies.

Time-Based Challenges: Some levels may have time-based challenges, requiring players to finish them within a certain time frame for bonus points.

Combo Multipliers: Players can earn extra points by chaining together successful actions and combos. The longer the combo, the more points they'll earn.