Share Talking Tom Gold Run Online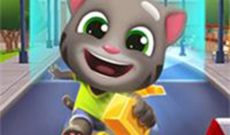 Talking Tom Gold Run Online
Talking Tom Gold Run online for free through now.gg. Whether you're on a PC or using a mobile web browser, you can access and enjoy the game without the hassle of lengthy downloads
If you're a fan of action-packed games and enjoy the thrill of endless running adventures, Talking Tom Gold Run is the perfect choice for you. Developed by Outfit7 Limited and now available to play online through now.gg, this game is a high-speed pursuit that will keep you entertained for hours. But that's not all! Now.gg offers a wide range of interesting online games for you to explore, so you can feed your gaming appetite to your heart's content.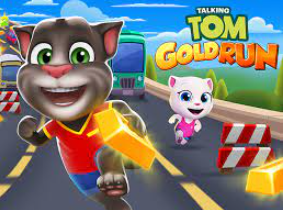 Prepare to lace up your virtual running shoes as you dive into this fast-paced and exhilarating chase. In Talking Tom Gold Run, you'll be dashing through the streets, leaping over obstacles, and sliding your way to victory. The best part? You get to assume the roles of beloved characters such as Talking Tom, Talking Angela, Talking Hank, and more. It's a thrilling race against time as you collect gold coins and unique items along your path, all while putting your agility and reflexes to the test.
As you gather coins during your run, you have the opportunity to start from scratch and build your dream home. You can personalize and design every element of your house, from the walls to the furniture, creating a unique and cozy space for Talking Tom and his friends. With a cast of endearing characters from Talking Tom Gold Run, each boasting their own special skills and personalities, the customization options are endless. Play as Talking Ginger, Talking Ben, and other characters as you progress through the game and unlock new ones.
To up the ante, you'll need to face off against the notorious raccoon gang. To overcome these mischievous critters, you can switch between your favorite characters, each with their unique advantages. The raccoons won't make it easy for you, so be prepared for an exhilarating journey through various immersive worlds. From bustling city streets to lush forests and beyond, each world presents its own set of challenges and surprises. Navigate through tricky obstacles, soar through tunnels, and unlock exciting new levels as you relentlessly pursue the raccoons through ever-changing landscapes.
What makes this gaming experience even more enticing is the fact that you can play Talking Tom Gold Run online for free through now.gg. Whether you're on a PC or using a mobile web browser, you can access and enjoy the game without the hassle of lengthy downloads and annoying updates. Now.gg allows you to play your favorite Talking Tom Gold Run in the cloud on your PC or mobile device, instantly transforming your old gadgets into powerful gaming machines.
Share the game's link on your social media platforms and introduce your friends to this innovative way of gaming. And if you ever need to switch devices, no worries! With now.gg's mobile cloud gaming, you can seamlessly pick up your game on another screen without losing your hard-earned progress. So don't wait – dive into the world of Talking Tom Gold Run on now.gg and start your endless running adventure. Simply click the 'play in browser' button, and you'll be off and running in no time.