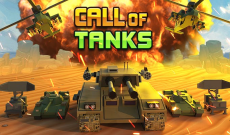 Call of Tanks
"Call of Tanks" is an action-packed multiplayer online tank battle game that puts players in the driver's seat of powerful tanks on a vast virtual battlefield.
Explanation of the Game
"Call of Tanks" is an action-packed multiplayer online tank battle game that puts players in the driver's seat of powerful tanks on a vast virtual battlefield. The goal is to destroy enemy tanks while strategically navigating the terrain, collaborating with teammates, and earning points to climb the leaderboard.
Rewards or Achievements
Rank Progression: As you earn more points and win battles, you'll advance through different military ranks, unlocking new tanks, skins, and customization options.

Medals and Achievements: Complete challenging tasks and objectives to earn medals and achievements, showcasing your skills and dedication to the community.

In-Game Currency: Accumulate in-game currency to purchase premium tanks, cosmetic items, and other valuable resources.

Leaderboards: Compete with players worldwide and strive to claim the top spot on the global leaderboards, earning prestige and recognition among the community.
Challenges or Obstacles
Enemy Tanks: Face formidable opponents with unique tactics and strategies, making every battle a challenge.

Environmental Hazards: Navigate through diverse terrains such as deserts, forests, and urban landscapes while avoiding environmental obstacles like mines and artillery fire.

Resource Management: Manage your tank's ammunition and fuel, requiring strategic decision-making during battles.

Team Coordination: Effective communication and teamwork are vital for success. Lack of coordination with teammates can lead to defeat.
Social or Community Benefits
Clan and Guild System: Form or join clans and guilds with friends and like-minded players, fostering a sense of community and camaraderie.

Tournaments and Events: Participate in regular tournaments and special in-game events, providing opportunities to socialize with other players and win exclusive rewards.

Friend List and Chat: Build a friends list and communicate with players in real-time through in-game chat, fostering social connections and collaboration.

Player-Generated Content: Share your epic battles, strategies, and gameplay videos on social media or within the game's community hub, inspiring and entertaining others.
"Call of Tanks" is a thrilling game that combines strategy, teamwork, and action-packed battles. It offers a rich gaming experience with rewards and challenges, while also fostering a vibrant and connected player community.
Instructions
Tank Battles: Engage in intense tank battles where you must destroy enemy tanks to earn points. Different tanks have varying abilities and strengths, adding a layer of strategy to your gameplay.

Teamwork: Team up with other players to form alliances and coordinate attacks on the enemy. Collaborative victories yield more points and help you progress faster.

Objectives: Complete various in-game objectives such as capturing strategic points, defending bases, or escorting convoys. Accomplishing these objectives not only earns you points but also helps your team advance.

Upgrades: Use earned points to upgrade your tank's armor, firepower, speed, and special abilities. These upgrades are crucial for staying competitive in the game.